Page 1 of 2 for Middle Texas Gulf Coast
Click Here to Go to Page 2 for Middle Texas Gulf Coast Guide Listings
---
Matagorda - Palacios - Port O'Connor - Rockport - Aransas Area

(Some guide & charter serives may also cover the lower Texas Coast)
Click on the guide's photo or their link to go directly to their site.
NOTE: Guide and Charter services are listed in alphabetical order.

Ace In The Hole Guide Service


Captain Brent Hopkins is a full-time professional fishing & hunting guide for the Rockport area that has been providing outdoorsman with some of the best adventures of their lives for the last 18 years. Fishing & hunting from San Antonio Bay all the way into Baffin Bay. We can accomodate families, corporate groups, and tournament fisherman with the latest gear and tackle that money can buy. Novice to expert, women & kids alike, welcomed!!! Come and join the many satisfied clients and freinds of Ace in the Hole Guide Service. Call us TOLL FREE at 1-866-663-2221.
Email - captainbrent@cableone.net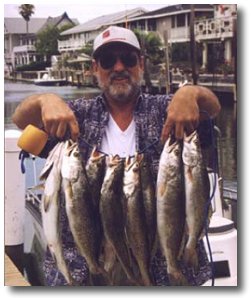 All-Star Guide Service
Capt. Marvin Landers
Rockport, Texas - Captain Landers has over 30 years experience fishing the coastal waters of Texas. Pursuing everything from trout and redfish through the coastal bend's seven major bay systems and king mackerel, cobia, and other pelagic species offshore has provided Capt. Landers with an thorough knowledge of both fish and water. Let Captain Landers put a lifetime of fishing education to work for you and book a bay or offshore fishing trip of a lifetime. Marvin holds a 25 ton Master's license from the U.S. Coast Guard. He enjoys sharing with others the thrill and excitement of fishing that a lifetime of experience has afforded.

Call 361-729-5180 - www.all-starfishing.com



www.tswf.com/lynnsmith/

Back Bay Guide Service
Capt. Lynn Smith - I have been fishing out of Port O'Connor for over 30 years. I specialize in wade fishing with artificials. One of my favorite things to do is to wade shallow flats throwing topwater lures in search of big trout and redfish. I am on the Pathfinder Pro Staff, and run a 22' Pathfinder with a 200hp Yamaha. I am also on the Shimano Pro Staff, and can furnish the finest Shimano reels and rods. I am a full time resident and guide in Port O'Connor. I was also president of the Coastal Bend Guides Assoc. of Port O'Connor for two years. www.SaltwaterFishingGuides.com/backbay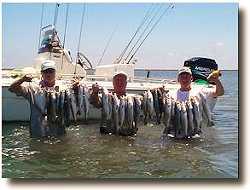 Bayshore Sportfishing
www.bayshoresportfishing.com/

Leonard "Mac" McPheters offers you the most outstanding saltwater bay fishing in Texas.

Our fishing grounds are in the Port O'Connor area and we fish Espiritu Santo and San Antonio Bays as well as West Matagorda Bay for Texas sized speckled trout and redfish. Specific areas include West Matagorda Bay, Espirtu Santo Bay (Port O'Connor area) and San Antonio Bay systems, as well as the surf and up to 20 miles offshore. Fish out of a 2350 fishmaster, or a 21 foot Majek. Lodge available for groups or coporate trips.. (by quote only)..rental cabins available. Wade - drift - artificals - live bait - flyfishermen... We cater to all fishermen!

Captain Mac is a US Coast Guard certified and TPWD licensed captain with over 35 years' experience fishing and guiding the Texas Coast. His experience and vast knowledge of the locale will insure that your trip will be unforgettable.

Big M's Fishing Charters
Capt. Marvin Engel
Big M's Fishing Charters, in the heart of south Texas specializing in Deep Sea, Bay Trips, & Western Gulf of Mexico (Port Aransas). Capt. Engel has been fishing the Western Gulf of Mexico and the Bay systems for 15 years. He has been a USCG licensed professional guide since 1996. Capt. Marvin Engel also enjoys fishing the many bays and flats in our area of south Texas. Bay fishing is excellent year round in this part of the country. The Laguna Madre bay system has alot of trout, redfish, and flounder.
CALL 361-668-0104. Visit our web site at: www.SaltwaterFishingGuides.com/bigmcharters/
Capt. Tom Horbey - Shallow Water Guide
Two and a half hours south of Houston lies one of the best fly fishing areas in Texas - Port O'Connor. This area is known for it's large trout and abundant redfish populations. I started salt water fly fishing in 1978. I bought my first flats skiff in 1983, and guided out of my Maverick from 89-91. I started full time guiding in 2001 with the purchase of a Hell's Bay Guide 18. I fish Matagorda Bay and Espiritu Santo Bay. I'm the only full-time fly fishing guide who lives in Port O'Connor, making it possible for me to be on the water seven days a week. Phone # 361-983-2263 - Email: saltlures@aol.com
Click here to visit Capt. Tom's website for more information.
Fishin' Tales Guide Service




Capt. Mike Bohac - Port O'Connor/Seadrift, Texas


Your invited to come fish with Captain Mike Bohac, out of the Port O'Connor/Seadrift area. You'll be fishing the most productive water for trout, redfish, and flounder along the gulf coast. Captain Bohac will make sure you enjoy your trip. If you want to experience fishing at it's best, you've come to the right guide. Captain Bohac is a USCG licensed guide for 6 years and has been fishing the area since 1977. We will customize a trip to meet your needs. We welcome families with children and corporate trips are also available. We offer both drift and wade fishing using either live bait or artificial lures. NO FISH NO PAY. Call 281-313-FISH (3474) or my cell: 281-413-3893
www.fishintalesguideservice.com
---
Fishing Guides, to sign up with Texas SaltwaterFishingGuides.com, just fill out FORM you will find HERE. Or you can just use the form as a guide for the information we would like to receive from you and mail such to the address above.

SaltwaterFishingGuides.com
Attn: ADC Web Design
208 Greenbriar, Wharton, TX 77488


Email: webmaster@SaltwaterFishingGuides.com